Materials:
- Yarn Pehorka Children's whim.
- Hook 1 - 1.5 mm
- Threads County
- Stuffing sintepon
- The paper decorative
Column without nakida - st.b.n.
1 row. Start with the ring finger and wrapped with a resulting ring knit 6 st.b.n. (Of 6 st.b.n.)
2 row. In each loop provyazyvaem 2 st.b.n. (Total 12 st.b.n.)
3 row. In every second loop 2 st.b.n. (Total 18 st.b.n.)
4 row. In every third loop 2 st.b.n. (Total 24 st.b.n.)
5 series. In every fourth loop 2 st.b.n. (Total 30 st.b.n.)
Series 6-9. No of increases. (Total 30 st.b.n.) We get here such polusharik :)
We need these two.
Polushariki fasten over the edge of the 5th st.b.n.
Go to the great circle of increases and knit without ubavok a row.
Next knit 9 rows diminishing in each row 4 st.b.n. Dec to do two in a row in the center of each side. I hope it is clear:-D
Fills.
And we continue to diminish 4 st.b.n. in each row to the full closing.
I sliced ??bumazhechki here such pieces. These pieces I then folded in half to get something like a postcard. Area slipped through postcards linen thread.
And the same thread stretched across the top of a heart.
The threads are cut. Ties on a double knot and double bow.
Here's a Valentine we turned. Left to write in our card all secret words that we conceived and hand her the beloved.
And lastly, I'll show ...............
Will change ... as Valentine size depending on the thickness of the thread which we knit it.
Pictured from top to bottom.
Yarn Pehorka Children whim
Yarn Semyonovskaya Olga
Yarn Semyonovskaya Arina
But hearts are derived from these three yarns. Scheme knitting one and the same.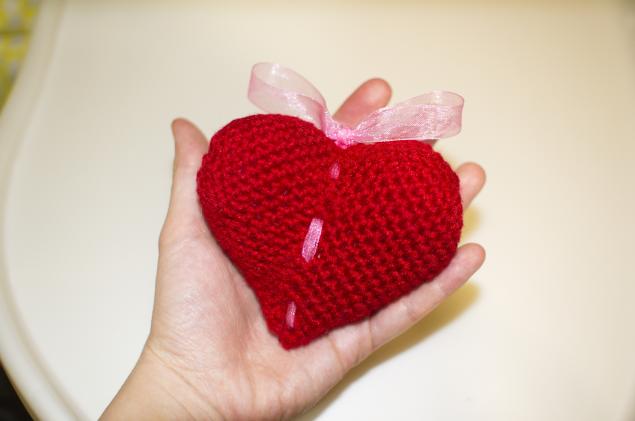 MK hope useful to you! Knit with pleasure and joy.